About J.Wayne Phillips, MD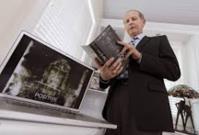 J.Wayne Phillips is an asthma-allergy specialist in Clearwater, Florida (FL). Dr. Phillips and his caring staff are able to provide the highest level of care for those who suffer from asthma, allergies, Dermatitis, Eczema, sinus headaches and a wide range of other ailments. He has been practicing as an asthma-allergy specialist in Clearwater, FL for over 30 years at the same practice, and is available for his patients 24 hours a day, seven days a week. Dr. Phillips is dedicated to keeping his patients out of the hospital, and does whatever he can to get them the help they need for their asthma or allergies in a timely manner.

For treatment for allergies or asthma in Clearwater, FL, please call the offices of asthma-allergy specialist Dr. J.Wayne Phillips and make an appointment today.
Education
BS, University of Notre Dame

University of Miami Medical School

Ocshner Foundation Medical Internship

University of South Florida, Internal Medicine

University of South Florida, Allergy Fellowship

Chief Allergy Morton Plant Hospital

Training
Annual Exceeding CME credtis
Staff
Six office workers

Dedicated Injectionist (25 years experience)

Full-time Allergy Nurse Practitioner
Affiliations
Morton Plant Hospital

Helen Ellis Hospital, Chief of Allergy Department (20 years)
Certification
Board Certified Internal Medicine

Board Certified Allergy Immunology
---